To visit CM Riddle's (my pen name) Webpage, home of One's Own Sweet Way click the link below
https://spark.adobe.com/page/hOJd9r6v18H9w/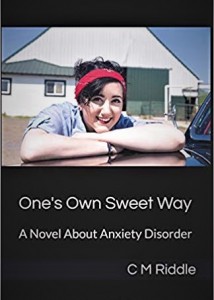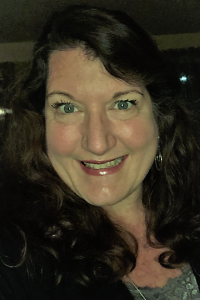 Tina Riddle Deason, writing as CM Riddle
813 Santa Dorotea Circle
Rohnert Park, CA 94928
(707) 318-8902
Cmriddle55@gmail.com
Priestesstina.com http://priestesstina.com/?page_id=546
Rohnert Park, CA, February 24, 2019 – Discussion and Book Launch on Anxiety and School Refusal. Nearly everyone experiences some form of anxiety or another, but for some people, anxiety and panic attacks become debilitating and threaten opportunity and quality of life. Author and speaker, CM Riddle will host a discussion and book launch of her recently published book, One's Own Sweet Way, A Novel About Anxiety Disorder on Sunday, February 24, 2019.
HIGHLIGHTS FROM THE ANXIETY PRESENTATION AND DISCUSSION
As many as 20 % of high school students have anxiety disorders. Undiagnosed or untreated anxiety in teens may lead to:
• Increased depression
• Increased suicide
• Increased self-medication
• Lack of opportunity
• Poor quality of life
• Poor self-esteem
• Underachieving
• Worsening mental illness health
"One's Own Sweet Way is a must read for anyone confronting the anguish of anxiety or those who care for a loved one with anxiety. This book is helpful for parents, teachers, students, and friends to understand difficulties and endeavors to attain hope while living with an anxiety disorder." Lena Kibble, L.F.M.T.
CM Riddle's novel comes from both the parent and the student's point of view. Student, Neala Byrnes, experiences a debilitating panic attack which threatens to take over her capacity to go to school. Neala and her mother, Claire, tackle the anxiety and set a course for Neala to complete high school. Though a novel of fiction, events, and tools used to work through anxiety and panic attacks are pulled from the author's personal experience. Anyone with anxiety will benefit from CM Riddle 's book as One's Own Sweet Way offers support, humor, and practical tips.
One's Own Sweet Way will be available for purchase at the discussion and book launch, on February 24, 2019, at the Marin Odd Fellow's Hall located at 1525 Mission Blvd., San Rafael, CA 94901. The event is from 9:30 am to 11:30. One's Own Sweet Way is also available on Amazon.
FREE tickets available at Eventbrite.com. Email the author at CMRiddle55@gmail.com for further details or visit http://priestesstina.com/?page_id=546
###
CM Riddle Author Bio
# 1
Tina Riddle Deason, writing as CM Riddle, debut's her first novel, One's Own Sweet Way, A Novel About Anxiety Disorder this year. Tina raised her family in Novato where she provided quality home childcare. As her children grew, she continued her work in the child care field at the Marin Child Care Council and Community Action Marin. After moving to Sonoma County where her youngest was born, Tina worked as a CPR and First Aid instructor and training center coordinator. Tina was compelled to follow her love for writing when her daughter developed debilitating anxiety. Tina has additional work published in anthologies and magazines. With several more books on her horizon, Tina follows her passion for telling stories which touch the human heart and awaken the soul. Tina Riddle Deason is an Ordained Priestess, Women' Circle, and Apprenticeship Facilitator, Anxiety Disorder Facilitator, Author, and Mother. She resides in Rohnert Park, with her husband, Brian.
#2
Tina Riddle Deason, writing as CM Riddle, debut's her first novel, One's Own Sweet Way, A Novel About Anxiety Disorder this year. Tina's storytelling touches the heart and awakens the soul. Tina is an Ordained Priestess, Women's Circle Facilitator, Author, and Mother. She resides in Rohnert Park, CA. priestesstina.com
I have always been called to be a writer but was compelled to put pen to paper – or fingertips to keys – when my youngest daughter developed debilitating anxieties.Of the dramas I have lived through – divorce, financial ruin, single-parenting, chronic illness, near death of a child, and even the death of a parent, this journey with my daughter moved me in a way that I knew I had to share it.You see, for any of the ordeals listed there are social graces which let us move through those experiences and with the guidance we hope to find our way to the light and move on- and, besides that nothing else I experienced scared me as much.When faced with the subject of mental illness there is still the slight stigma of keeping it hush-hush.
When confronted with a child's mental health, at least for me, I was cautionary not to expose her. Parents want to protect their child. At the same time, there is a need to approach the subject to get the help needed –
Especially when the child is in school. Will this go on her permanent record? This was a difficult choice to make and to move forward.

I had to set my fears aside to understand that communication, willingness to experiment, and allowing time for therapeutic measures to take effect make success possible. In our case, that willingness made the difference for our child to earn her high school diploma with support from therapies and the resources from our public schools.
Most importantly, I have come to learn that my daughter is a capable, intelligent and loving being. She is sensitive and kind to others, and she continues to grow daily just as I have become more patient while she makes strides in her Own Sweet Way.

Types of Stressors Eustress, or positive stress, has the following characteristics:
• Motivates, focuses energy
• Is short-term
• Is perceived as within our coping abilities
• Feels exciting
• Improves performance

In contrast, Distress, or negative stress, has the following characteristics:
• Causes anxiety or concern
• Can be short- or long-term
• Is perceived as outside of our coping abilities
• Feels unpleasant
• Decreases performance
• Can lead to mental and physical problems

With EUSTRESS:
For Neala that could mean holding herself accountable to turn in her homework on time, knowing she did quality work and followed the syllabus the best she could.

OR with DISTRESS:
Neala held on to completed homework and only turned it in when her teacher threatened to notify parents of tardy assignments. Neala's quality work should have earned an A+ but her reluctance to submit it, making it overdue, she received a D. This perpetuated the anxiety for the next round of homework, thus beginning the downward spiral. She was an A student who earned D grades.

Why is it important to recognize these disorders and reactions?

My first fear and greatest worry were that my daughter would fall behind and possibly even drop out of school. My goal was to help her accomplish her education and received her High School Diploma.

WHAT WE KNOW:
• Mental health issues can seriously impact high school children's performance at school.
• There is a direct correlation between adolescent mental illness and scholastic performance. Mental illnesses cause students to perform poorly or drop out of school. (as mentioned about holding on to homework)
• Dropouts are more likely to experience ongoing mental health disorders like depression. Researchers claim that as many as 20 percent of adolescents had some form of mental disorder and that up to 50 percent of diagnosed mental disorders began during adolescence.
• Little research has been conducted to find out if the high school dropout rate is linked to mental health problems.
• After my experience with my daughter, I have little doubt that many factors for dropping out stem from un-diagnosed or untreated anxiety disorders
• The Centers for Disease Control and Prevention lists many factors that play a role in the decision to drop out including low acceptance of authority, social and economic background, poor grades or test scores. The report does not refer to mental illness.

After concluding this, I met my second fear: Youth.gov reveals that 20-25 % of youth meet the criteria for a lifetime mental disorder. Mental health problems are often difficult to diagnose and can be masked by other issues. One of the most common co-occurring problems is substance use disorder.

• Anxious or depressed students may turn to legal or illegal substances to help them cope, and may possibly become dependent on them- PERHAPS for the rest of their lives
• Anxiety and substance abuse affects everyone in the family, sometimes for generations
• Addiction s itself a form of mental illness and is hard for doctors who are not familiar with substance use disorders, to detect other underlying mental health disorders

My message is to act, don't wait when a student needs your help. IT could make a difference to them and the people they know. . . even the people they haven't met yet. xo

Please read and share my book with anyone who may have an anxiety disorder or who lives with someone with an anxiety disorder.