The Wheel of the Year
Imbolc February 1
Ostara March 21
Beltane May 1
Summer Solstice June 21
Lughnasadh August 1
Mabon September 21
Samhain October 31
Winter Solstice December 21
BECAUSE OF COVID 19 WE WILL BEGIN FEBRUARY 2022
2022w Dates TBA Begins February, at Imbolc 2021
Will include Eight Sabbats throughout the year
OUR NEWLY ANOINTED PRIESTESSES
2019 APPRENTICESHIP
(Scroll down to Imbolc then back up to Yule for chronological sequence)
Calliope and Elboroda 
Priestesses and their Pouches and Shawls of Holy Women
Celebratory Tarts
Winter Solstice; Yule 2019
Samhain 2019
Autumn Equinox 2019
Lughnasadh 2019
Celebrating the Harvest at Mantanzas Winery in Bennet Vally – What a fun way to honor Lughnasadh!
Corn Dolly Crafting
Summer Solstice 2019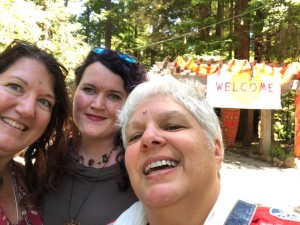 At the Gualala Art Center, celebrating Summer Solstice with the Priestesses of the Iseum of Mary Isis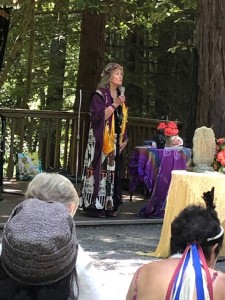 Celebrating Fire and Summer Solstice with Wand Making and Manifesting at the Russian River Resort Area
Beltane 2019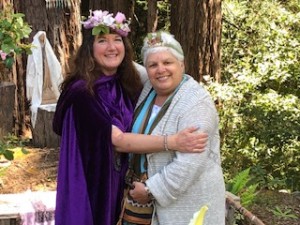 Taking Vows at the Beltane Sabbat at Lilith
Beltane Crowns
Ostara 2019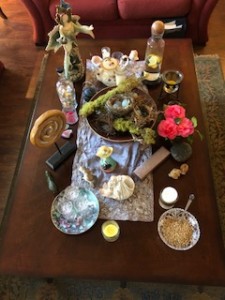 Welcome springtime and rebirth!
Our apprentices gathered in Circle to welcome the second "turn of the wheel." We talked about taking risks and what it means to find balance at the Vernal Equinox. We performed rituals to inspire joyful and strong rebirth in ourselves and our world. Blessed Be!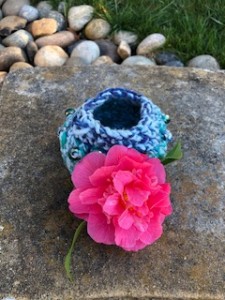 The Burden Basket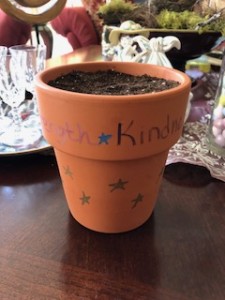 May all of your Ostara seeds sprout and may you be blessed with bounty!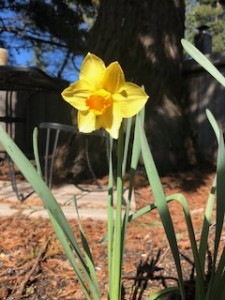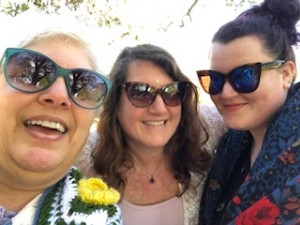 Imbolc 2019 
We began our Wheel of the Year Journey with Imbolc on Saturday. . .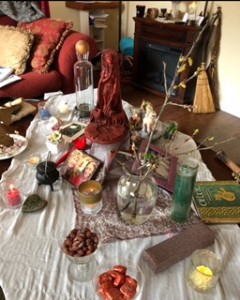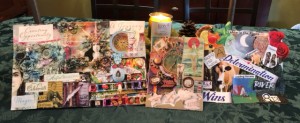 Intuitive Art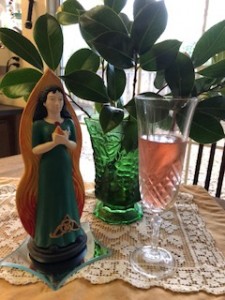 In preparation, I found these tender buds along the NorCal Coast one day on an excursion with my husband and our dogs.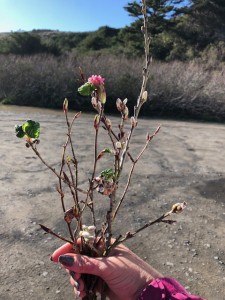 Here are the dogs. . . Bella and Buddy-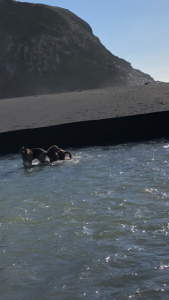 Here is the amazing NorCal Coast. . . just past Jenner, CA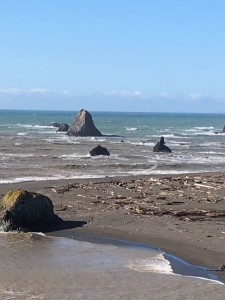 Hard to think it is only the early days of spring!
Here is me at the Imbolc Altar-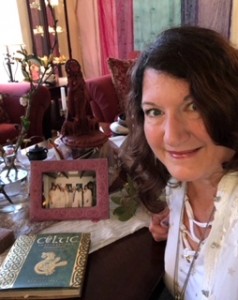 A lovely shot of the Altar-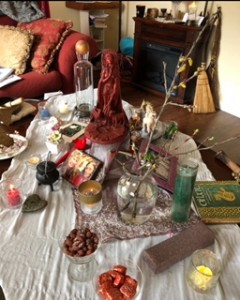 And here are some of the buds outside of my home, the Camellias are still tight little buds-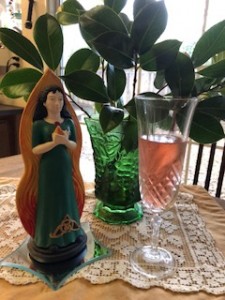 And here is me looking very priestess-y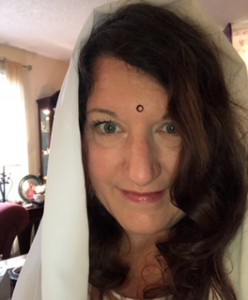 One of our crafts for the day was to make vision boards. . .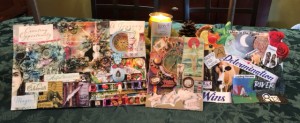 We also made Brigid's Crosses, it was a sacred and precious day for the Apprentices.
For fun, I decided to add my YouTube video of the Imbolc Altar. I will present one for each Sabbat all year long. Please check out the link below xo
Blessings and Peace, Honor and Love to you!
Love,
La Bona Dea xo
Answer Her Call and join the Apprenticeship as we journey around the Wheel of the Year together!
OPTIONAL ORDINATION FOLLOWS, ADDITIONAL FEE $200. TO ISEUM OF MARY ISIS
TUITION $1,200.00* INCLUDES MANUAL, SPIRIT SONG CD, MATERIALS, REFRESHMENTS
FULL DAY COURSE INCLUDES CASTING AND CLOSING CIRCLES, SABBAT HISTORY & CUSTOMS, GODDESSES, GODDESS PRESENTATIONS, RITUALS, AND MAGICAL TOOL CRAFTING (SUPPLIES INCLUDED FOR MOST CRAFTS), AS WELL AS ADDITIONAL HANDOUTS. MEALS ARE POTLUCK BY APPRENTICES. SPACE IS LIMITED
*$200 deposit required before Imbolc, remaining balance may be made in installments at each full moon.
Perfect Love and Perfect Trust with Blessings to all, great and small!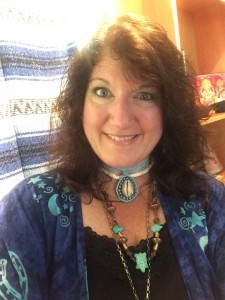 Priestess Tina Brigid, Facilitator of Path of the Priestess
*************************************************************************************************************
Yearlong Priestess Apprenticeship Program, Created by High Priestess Nancy Dew, Facilitated by Priestess Tina Brigid Deason, coming to La Bona Dea Imbolc 2019!!
Path of the Priestess, The Goddess' Guide to the Wheel of The Year
Manual is COMMING SUMMER 2018
Nancy Dew, High Priestess of the Iseum of Mary Isis, and facilitator of the yearlong Priestess Apprenticeship upon the Sacred Land of Lilith have a Priestess Apprenticeship book coming this summer! You will be able to order your copy from her or me. Information to follow
Attend the Priestess Apprenticeship locally in Rohnert Park for the 2019 Wheel of the Year
I am offering yearlong Priestess Apprenticeship beginning this Imbolc, (around Feb. 1, 2019)
If you are interested in participating in the yearlong journey, please contact me for information, including the Merry Meet Event, to know other apprentices, and the Eight Holy Sabbat dates of the program.
Tuition for this Yearlong Priestess Apprenticeship is $900. Fee includes Eight Holy Sabbats, full day agenda with a circle, song, chants, along with the introduction to several Goddesses archetypes and myths, ritual, magical tool making, and presentation of the Goddesses and your copy of the book. Upon completion of the eight Sabbats, you will be an anointed priestess. If you are interested in becoming ordained to perform legal rituals and ceremonies, you may participate in an additional event. The ordination is optional, and the fee is $200.00.
This Priestess Apprenticeship will take place at my residence, and will include some daytime or evening "off-site" adventures.
MONTHLY UPCOMING EVENTS

MOON CIRCLES 6:30-8:30 pm
Friday July 27 FULL
Friday August 17 WAXING
Friday September 21 FULL/MABON
Friday October 26 WAXING/SAMHAIN
NOVEMBER Gratitude Gathering
Sunday November 18th 11am-2pm
DECEMBER Yule Celebration and Winter Solstice
Friday December 21 6:30-8:30 pm
JANUARY MERRY MEET for Priestess Apprenticeship, date/time to follow
FEBRUARY Imbolc, first sabbat for initiates, date/time to follow
mommadeason@gmail.com OR 707 318-8902, Blessed Be