WELCOME TO THE CAULDRON
(The place of transformation)
Virtual Full Moon Gatherings via Zoom will begin in September
Save these dates
Sept 2 Corn Moon
Oct 1 Harvest Moon
Oct 31 Blue Moon and The Witches New Year
Nov 30 Beaver Moon
Dec 29 Cold Moon
email me at mammadeason@gmail.com for details or follow La Bona Dea on Facebook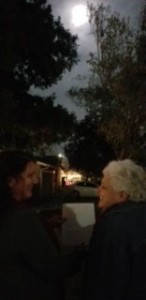 In-person events will be POSTPONED until it is safe to gather again
BE PRESENT IN THE MOMENT
BE KIND
BE AUTHENTIC
BE PEACE
BE…..

SPRING CELEBRATION
Intention Setting with Candle Magic
THURSDAY, MARCH 12 from 5-8 pm Ritual begins at 6 pm.
At my home in Rohnert Park
$20 donation includes all materials and light refreshments will be served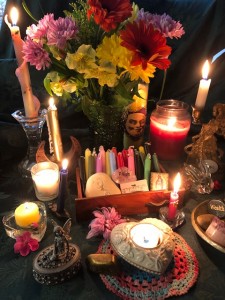 Spring offers the opportunity for renewal and rebirth. It is a magical time of discovering what wonderful and intuitive gifts we were born with, and how we might tap into them. At this gathering, we will examine how to unblock our gifts and apply them to our daily lives.
Discovering our life-work and sharing our passions are ways to express ourselves and honor Mother Earth.
What will we do at this gathering?
Learn to use candles to set intentions; dressing candles, writing sigils, and selecting proper colors are a part of the preparation.
We will hold s Sacred Circle and listen to a guided meditation focusing on our personal gifts from the universe.
We will pass the talking stick and share if we desire, the images or feelings that come up as well as what may be blocking us during creative times.
We will set our intentions through candle magic and as our candles burn, releasing our intent to the universe, we will partake in light refreshments.
I am proud to announce that two new Priestesses will be assisting us with this year's first ritual at La Bona Dea
Please contact me with any questions or to reserve your spot! and celebrate the arrival of springtime!
mammadeason@gmail.com
or text to 707 318-8902
Blessed Be! So, Mote, it Be!
Visit this site and read my blog where you will find that every day is filled with magic and wonder.
With Gratitude,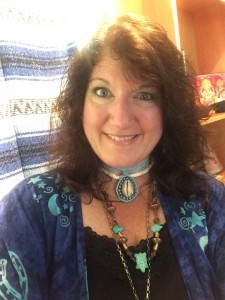 Priestess Tina
Did you know I am available to perform a customized ceremony or a ritual at your special event? Contact me for your next event and let's make it sacred as well as memorable!
Engagements
Weddings/Commitments
Baby Blessing
Special Birthdays
Home Blessings or House Warming
Rites of Passage
Memorials/Funerals
To see what I love to do, Please visit the photos page and scroll down to see previous events from La Bona Dea–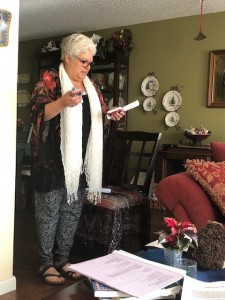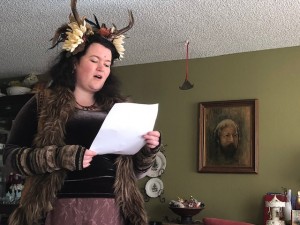 Apprenticeship has commenced and we have two new Priestesses, Colliape and Elboroda, who will continue to reach out and share the words of the Goddess and help to heal Mother Earth.
Next Apprenticeship will take place in February 2021
It has been a fun-filled camping summer bookended with Sabbats -Summer Solstice and Lughnasadh- but as the Autumn approaches I have some plans for Full Moon Circles Coming up!
LOOK FOR WOMEN'S MOON CIRCLES BEGINNING IN SEPTEMBER AND A DIVINATION NIGHT IN OCTOBER  – BLESSED BE
Natural Easter Egg Dying Workshop
$5.00 for materials
Thursday, April 18th from 5pm-8pm Kid Friendly!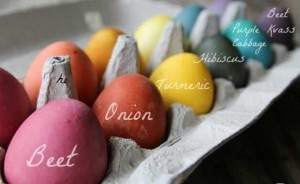 I love to dye my Easter Eggs with natural dyes, so this year I am inviting everyone to join me at this fun event!
I will prepare the dyes, you can bring your eggs- about a dozen or so- and I will have materials available to create some impressive and creative eggs for your Easter!
Ostara, the Vernal Equinox is March 21, but because Easter comes in April this year, we get to celebrate SPRING twice, and frankly, after all of this rain, I am so glad! Yippee!
Please email me, or use Facebook to RSVP so I know an approximate number of guests to prepare for!
See you soon!
Love,
La Bona Dea!
ONE'S OWN SWEET WAY BOOK READINGS

Summer 2019 at the Sonoma County Fair
JULY 14 Copperfieldsin Santa Rosa
APRIL 10th GAIA'S GARDEN
http://www.gaiasgardenonline.com then click on literature
Dine With Local Authors! Come listen to us read from our books while you indulge in some yummy organic delights. . . I gotta say, the coffee and desserts rock too! xo See you then! 6:30-8pm
BOOK LAUNCHES
A book is Born!
12/01/2018 AND 02/24/2019 One's Own Sweet Way was born, all 318 pages of her!
I will be spending some time promoting this novel about anxiety disorder – come meet me!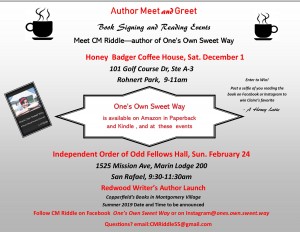 Visit my group IN SPITE OF ANXIETY on Facebook
In Spite of Anxiety is a closed group. Tell us about successes in spite of anxiety. Share ideas and support for those who suffer from anxiety and those who care for loved ones with anxiety. Please visit and share positive affirmations and stories- and your accomplishments, no matter how small, and for sure how GREAT!. Intention of this page is to inspire and leave you feeling less stressed, greatly valued, and truly respected. I created this group because YOU ARE PRECIOUS!
Here are special events which are coming up as well as services
DIVINATION AND MAGIC to CELEBRATE THE WITCHES NEW YEAR!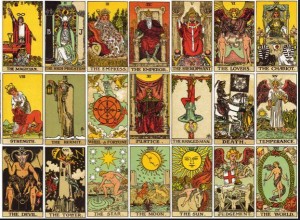 SATURDAY, OCTOBER 2OTH TAROT READING AND OTHER OTHER ORACLES
OPEN HOUSE FROM 5-9pm ROHNERT PARK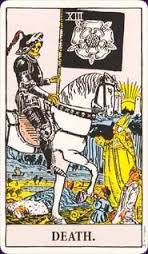 Don't FEAR the Death Card…. it's just a chance for CHANGE! Come learn a little about the cards and hear your
Wheel of the Year Readings- and much more… RSVP to mammad@gmail.com or hotmammad@sonic.net
Summer 2018 Path of the Priestess Manual by Nancy Dew
Imbolc 2019,Year Long Priestess Apprenticeship, using the manual by Nancy Dew
MONTHLY UPCOMING EVENTS

MOON CIRCLES 6:30-8:30pm
Friday July 27 FULL
Friday August 17 WAXING
Friday September 21 FULL/MABON NEXT IN THIS SERIES OF MOON GATHERINGS!
Friday October 26 WAXING/SAMHAIN
NOVEMBER Gratitude Gathering
Sunday November 18th 11am-2pm
DECEMBER Yule Celebration and Winter Solstice
Friday December 21 6:30-8:30pm
JANUARY MERRY MEET for Priestess Apprenticeship, date/time to follow
FEBRUARY Imbolc, first sabbat for initiates, date/time to follow
Hello All!
I have been working on my book, Her Own Sweet Way, my personal story about raising a child with an invisible disability, so I have pulled back on gatherings for now- as I plan to publish in early 2018… Well okay, more like between Lughnasadh and Mabon, but hopefully before Samhain!
I am available for ritual and ceremony upon request, so please feel free to contact me to do this for you!
I will write or perform ritual or ceremony for events at your location. hotmammd@sonic.net or La Bona Dea on Facebook.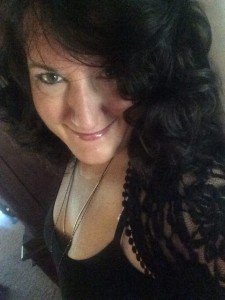 Bright Blessings!
Practical Magic Women's Sacred Moon Circles!
Sing, Dance, Feast, all in Her Name!
On-going for 2017
First Monday of the month (Moon-day) From 6:30-8:00pm Goddesses gather at 6:15
at Songbird Community Healing Center, upstairs back room
By Donation Only; suggested $5.00-15.00, no one turned away
Check website posts for monthly topics And visit Songbird Center for additional services
songbirdcenter.org
EVENT DETAILS MAY DAY CELEBRATION COME USHER IN THE SUMMERTIME!
May Day Celebration: Come usher in the summertime!
The birds are singing,
the bees are buzzing,
the flowers are blooming and
the fairies are flying.
It's time to leave winter behind and welcome the long playful days of summer.
Let's honor the outdoors, new growth, and wanderlust.
Let's celebrate this magical time of year.
Family Friendly. Finger Food Appetizer Potluck.
Drumming with Sahar and
Circle with Tina Deason
Sunday, May 7, 2pm-6pm
Suggested Donation $10-$20/No RSVP Necessary
Drop-in or stay the entire time.
2-3pm: Gather & Drumming, 3-4:30pm: Circle w/Meditation/4:30-5:30: Drumming/Dancing/Feasting, 5:30-6pm: Closing
Songbird Community Healing Center
8297 Old Redwood Hwy
Cotati, CA 94931
www.songbirdcenter.org
info@songbirdcenter.org
707-795-2398
Sahar will encourage you to drum up a storm impassioned with vitality, sweet intimacy, and deep peace. He will also lead you on a meditation journey. Bring drums or contact Sahar if you need one.
Tina Deason will take you on a journey through time, going back to ancient ways including teaching about circle etiquette, gods and goddesses of the season, and how seasons were celebrated with ritual. www.priestesstina.com
Tuesday, October 4th 7pm at Songbird in Cotati— Gratitude and Joy!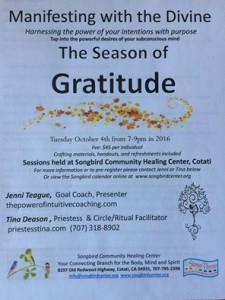 Saturday October 15th Witch's New Year Full Moon Goddess Gathering!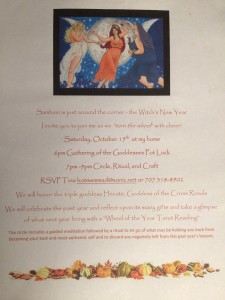 As always, there is no charge for (Women's) Practical Magic Full Moon Ceremonies. Donations are accepted and you are invited to contribute to the Goddess Potluck. (vegetarian & gluten free are suggested, all accepted!)
PRACTICAL MAGIC FULL MOON CIRCLES WILL BE HELD AT SONGBIRD COMMUNITY HEALING CENTER BEGINNING IN 2017
No cost to participants; donations accepted for rental space and supplies $5-$20 sliding scale
Manifesting with the Divine Series
Manifesting with the Divine Gratitude on Tuesday Oct. 4th!
Songbird Community Healing Center songbirdcenter.org
from 7-9pm; $45.00 fee includes magical craft making materials and refreshments
Manifesting with the Divine Harvesting and Abundance July 5th!
Songbird Community Healing Center songbirdcenter.org
from 7-9pm; $45.00 fee includes magical candle making materials and refreshments
Candle Magic and Keeping Focused Intent Strong at the Fiery time of Year!

A bit about Chaos magic: Chaos magic is a "set it and forget it" magic where we can perform our ritual and so the Universe carries our wish. To do this we must be specific in our intentions and learn to use our intuition to guide us for our best possible outcome. (You can even say "best possible outcome" knowing that you are allowing all things that come to you to be in your best interest.)
We hope to see you there!
SUMMER SOLSTICE AT THE BEACH!
Goddess Gatherers come and join me at the Beach on Momnday, June 20 for the longest day of the year's setting sun and the second Full Moon in Sag. rising! Wowweee! Contact me for details! Blessings All!
July 5th Join me at Songbird Community Healing Center for another session of Manifesting with the Divine!
Full Blue Moon – Celebrate the Seasonal Blue Moon!
The next Blue Moon will be on May 21, 2016. It's a seasonal Blue Moon, the third of four full moons between the March equinox and the June solstice of 2016.
Location yet to be determined, but we will gather at dusk. More details to come as well as what to bring!
Hope to see you there!
Manifesting with the Divine
2 Sessions left for this year!
Harvesting Tuesday, July 5 from 7-9pm at Songbird Community Healing Center, Cotati
Gratitude Tuesday, October 4 from 7-9pm at Songbird Community Healing Center, Cotati
Come meet me at Honey Badger Coffee on Saturday, March 12!
The Wellness Fair is from 11am -2pm at 101 Golf Course Drive
honeybadgercoffeerp.com
2016 Manifesting with the Divine
3 Sessions left!
Tuesdays from 7-9pm in 2016
At Songbird Community Center in Cotati
April 5, Nurturing and Growth/Love and Relationships
July 5, Harvesting and Abundance
October 4, Gratitude and Letting Go
Series will take place on the first Tuesday in Jan/Apr/Jul/Oct 2016 from 7-9pm.
The year long series is $200/$50 per session, ($180 when paid in advance) and will be held at Songbird Community Healing Center in Cotati. http://songbirdcenter.org/
I am partnering with my colleague,Jenni Teague, for this series of workshops. To learn more about Jenni you can visit her website at thepowerofintuitivecoaching.com
February 2016 DELAYED TO SUMMER 2016
Priestess Apprenticeship Begins!
Travel with blessed Mother Earth as completes a full cycle during the Wheel of the Year. Meet the Goddess archetypes, follow the seasons and learn how the ebbs and flows of nature reside in our beings. This journey will introduce you to your personal Priestess-hood.
This is an 8 Sabbat journey identifying your personal power, strengths, challenges, and more as we embark together and bond through sisterhood priestess-ing. We will practice sacred circles; learn about traditional pagan holy days, rituals and goddess archetypes; magical tool crafting and more. Each Sabbat will be from 9am-3pm and the cost is $650 for the yearlong program. Fee includes materials and most supplies. Ordination at the end of the Apprenticeship is optional, additional fee required.
Sabbats will be held primarily in Petaluma.
Other Services offered:
Plan your wedding!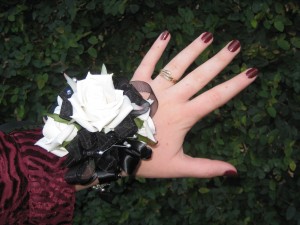 If you are planning a wedding, moving to a new home, naming a newborn babe,  or celebrating a special birthday, I am available to help you celebrate with personal rituals