Blackberries are a favorite of the Goddess Brigid… She has such good taste!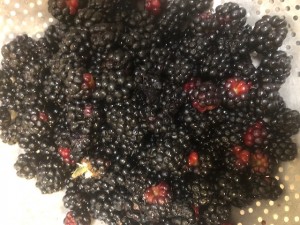 Great Blessings to you at the Season of Harvest! I enjoy this time of year when you can find "free food" all around the neighborhood, fields, and streams. I love that there are ancient parts of me that yearn to keep the desire to gather. To pluck a berry, sip the sweet nectar from horn-shaped flowers—and the part of me that is so thrilled that I do not have to mash acorns to survive. But, if needed, even the bitter acorn would be welcome.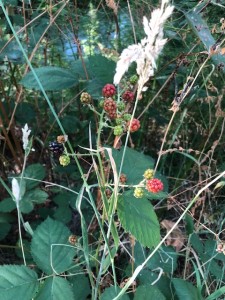 Since I was a little girl berry-picking was second nature. My grandmother's hands were always stained purple and that meant something good was headed my way. It could be a slathering of her carefully strained blackberry jam-not one seed to sour my four-year-old pickiness- on french bread and butter. Or the wafting smell of her blackberry pie with a melting scoop of vanilla ice-cream….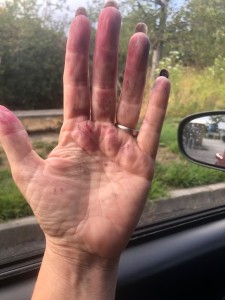 I was lucky to grow up with plenty of berries around me. I even had an abundance of them growing near my day-care when my children were small. I tried to treat them to the wonders that my grandmother and my mother gifted to me, but they got a close second. I sucked at crusts for a long time, so they got crumbles or buckles. Eventually, though, I mastered a crust that was fairly flakey and I was proud to call it mine.
These days I live near a creek and some years, (when the county hasn't hacked the brambles away) I have gotten loads of free desserts…the only payment I had to make was remorse for the fattest purplest berry that remained just out of reach…it was already promised to crow or jay-bird. I could live with that.
The week before Lammas I got to pick berries with my sister–and our faithful doggies. We had a wonderful time remembering and giggling, and I have to say, we were impressed that we hardly got a thorn or sticker between us. We have gained wisdom with our aging.
The Naked Ladies appear bringing warmer, sultry August nights. . . and I am blessed with the bounty of Sweetness everywhere I look!
May your first harvest bring you an overflowing basket and a whisper of promise.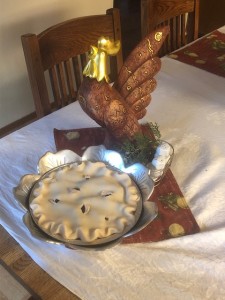 Goddess Bless, so mote it be!