Blessings and cheer to you at this merry time of year!
We have a new booklet available from The Priestesses of La Bona Dea. These pages are filled with practical and whimsical rituals and recipes to carry you through the year.
As winter sends an icy chill across the frost-covered lawn, I can't sit still. I urge to walk among the trees and smell their fresh scent. I scour the earth for fallen pinecones, attractive foliage, and seed pods. I'm transported to a long-ago time when the world was large when mystery filled our minds. Cast back to a time when magic found its way to our fingertips and wise women carried their secret knowledge close.
I fill with wonder, and I'm beckoned to play with herbs and spices for scents and magical properties. I seek protection to survive the long winter. . . not so much as worried about foraging or hunting as in days of old, but the hectic hustle of the holidays; feeding demands made upon families and friends to live up to expectations of others. When I have prepared mentally and found ways to fit my non-traditional yet essential rituals during this busy time of year, the business and craziness dim. I find those more meaningful moments appear, and I am relaxed in such a way, I notice them.
This reason and our purpose for creating our latest booklet filled with recipes and rituals to embrace the seasons of the year. The practice of slowing down, focusing, and setting intention will assist with manifestation goals and invite harmony into life's experiences.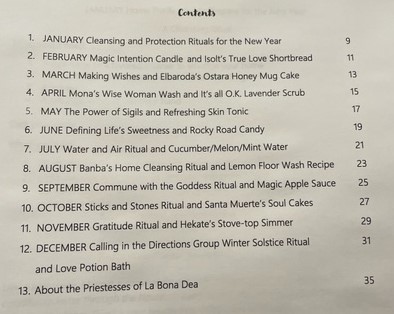 A Year of Ritual and Recipes, as well as A Year of Meditations, available for purchase at the Russian River Black Hat Society's Witches Winter Market Saturday, December 18, 2021

https://www.russianriverblackhatsociety.org/events
Here is a peek at our family Yule tradition. . . Merry of the Merriest to All
Great Blessings to you at Yuletide and always!
Tina Deason, HP
​