Basil, bay, ginger, nutmeg, thyme, Please accept this Ostara rhyme
sage, vanilla, rose, lavender too, cleanse, refresh, and start anew
Absorb negativity with crystals of salt, invoking good hoo-doo without fault
By the light, of this full moon, honoring springtime in full bloom
So, Mote, It Be & Blessings from the Goddess it is done!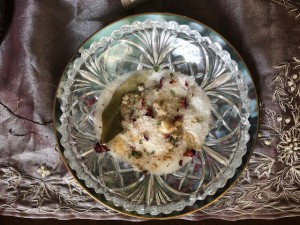 I am offering this little salt bowl to whisk away any stale remnants of winter,
thus allowing for a blessed spring!
Happy Full Moon, Happy Ostara!
xoxo
Here is a bowl from Priestess Apprentice Natalie: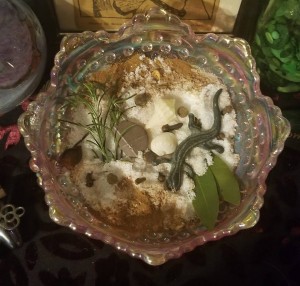 I love the creatures and the rocks, stunning!
And here is one from Priestess Apprentice Mona: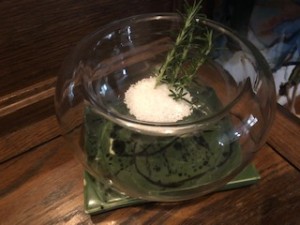 I can smell the clean rosemary scent!
WHEN TO REMOVE THE BOWL. . . HERE IS MY THOUGHT
I dumped my salt bowl contents at the end of the full moon cycle and a new moon comes next week, as does May 1, May Day, Beltane.
I took the bowl and dumped the salt down the sink (remove anything that will clog the drain) and chanted:
Purify and heal me
Heal me and free me 3x
to release any negative energies and let them flow away.
Now the bowl is empty and ready to gather all the good and beauty of this lovely flower season! I will probably fill it with sweet-smelling petals to invite some high vibrations in to fill the emptied space.