This year our Apprenticeship went camping. We spent the Summer Solstice Sunset tossing our cares away by throwing rocks (infused with what no longer serves our purpose toward manifesting our desires) into the Russian River.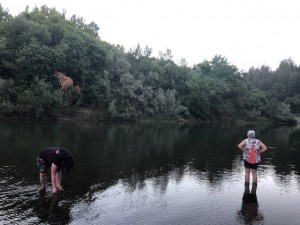 We were visited by the Great Blue Heron who circled above us three times. Click here to learn about the message from the Blue Heron – http://native-american-totems.com/animal-totem-medicines/native-american-totems-blue-heron/
Our craft was to make wands to direct our energy. We ate sumptuously delicious seasonal (and colorful) foods and shared in a sacred campfire circle.
The following day we attended the Iseum of Mary Isis's Summer Solstice at the Gualala Art's Center. There we participated in ritual and merriment with our HP Nancy Dew and several ordained priestesses. We are all here to answer Her call, and to in doing so, we honor the Great Mother and ourselves.
At the Summer Solstice, we say goodbye to the fun-loving Oak King and wait for the arrival of the Holly King at Winter Solstice (December 21). We will continue to enjoy the long evenings, though they grow shorter, and we will continue to manifest our desires and create with passion throughout the turn of the wheel of the year.
As we are in the Season of the Mother, we notice the full blooms of summer and the preparation for this year's harvest.
May the Sun Shine on You! Blessed Be!