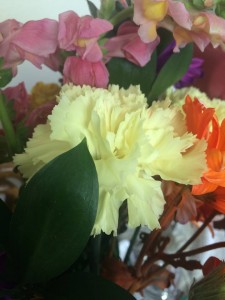 Spring always reminds me of being a teenager. I wanted so much to be grown and in charge of my life! I was learning about boy/girl relationships, how I liked to dress, how I felt when I wore Kissing Potion…. yeah, remember that sticky sweet lip gloss… bubble-gum flavor! Yeah!
I remember the angst of learning to be patient. (Still my downfall!) I was a bud just waiting to bloom! I couldn't wait to have my own life. I discovered sexuality, sensuality, and despair. It was all a magical and mysterious time.
My husband laughs at me, because here I am, all fifty-three years of me, and I still have no patience. He laughs because when the flowers make their buds I have to go peel back the outer layer of petal to see what color they will be. See? No patience! Ha!
Funny how now I spend some of my days recalling what was instead of pushing toward the future. Maybe I am accepting patience after all.
April's Practical Magic Women's Circle will be celebrating and flirting with the Feminine. It is a chance to awaken or reacquaint yourself with our divine feminine…. Spring is a time to open up, just like the blooming buds!
I hope you will join me and have some fun as we discover the magic of our personal power! Ready ladies? Let's jump into spring with both feet!
Monday, April 3rd from 6:30-8pm… Gather at 6:15
Songbird Center, Upstairs Back
By Donation $5-15